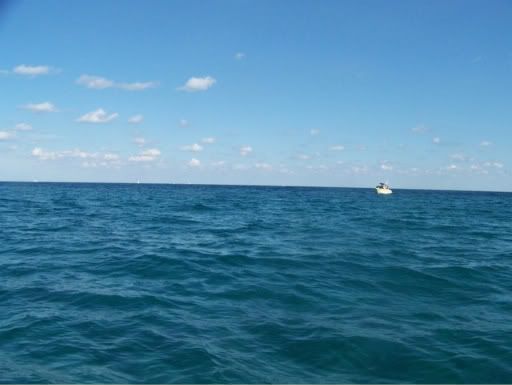 Friday -


Got up ridiculously early and braved the Atlanta airport.

Arrived in Miami and proceeded to run errands with our friend, Tina before eventually heading to her house where we were staying for the weekend.

Martina FINALLY got an iPhone...FINALLY.. (she upgraded a month early)

Had the most amazing Nicaraguan food for dinner (seriously..SO EFFING GOOD)

Crashed super early. Tired bitches.

Saturday -


Had the most amazing fresh ham and cheese empanada and Cuban coffee for breakfast.

Had my first experience with a fish market.

Drove up to Lighthouse Point, and proceeded to be taken out on a boat for the afternoon.

SHIT WAS BITCHIN! Beer on a boat in paradise with great company on a beautiful day...

Came back to the house we were staying at (Tina's girlfriend's step-dad's...if you MUST know) and had my first fish taco experience

Surprise cake and firepit times

Sunday -


I turned 25.

Had a fantastic breakfast cooked for me and dined poolside

Went to South Beach and walked around for the afternoon

Had mediocre sandwiches and good ice cream for lunch

Came back to Tina's house where we proceeded to drink and Singstar our asses off

Monday -


Weather was complete shit.

Went down to the keys anyways.

Nearly got blown off of the island by the crazy wind, but had good times at a tiki bar regardless

Had a seafood lunch before heading back to the house

Brief chillaxing before being sped away to Miami International to wait...and wait...for our delayed flight

Plane was INSANELY hot, and the lady next to me looked like she was going to puke the entire flight. Not one of my best flying experiences...

IN SUMMARY! Good weekend was good, and I apparently really needed a mental vacation. I came back to work on Wednesday with a surprisingly fresh outlook. Weird, huh?
P.S. Pictures are posted on Facebook -
here
And here's a weather example video I took on Monday from the tiki bar... shit was ridiculous...
So, how am I now that I am officially a quarter of a century old? Eh... pretty much the same. LoL